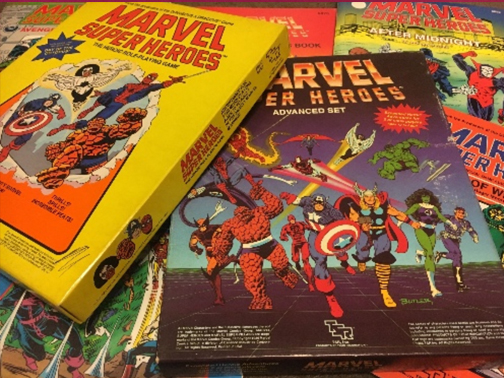 MARVEL TSR 1986
(A 1986-themed Marvel Super-Heroes roleplaying game, ran using the original TSR Advanced MSH box set.)
The Pitch
It is time for some true Playing With Power, true believers!
The year is 1986, arguably the single greatest twelve months in the history of American comics. It is also the year the Space Shuttle Challenger exploded, Halley's Comet returns for the first time since 1910, the Chernobyl nuclear plant disaster, the first PC virus is unleashed, the Soviets launched the MIR space station, the New York Mets crushed the Boston Red Sox, global tensions escalate as talks between Ronald Regan and Mikhail Gorbachev completely break down… and the MARVEL SUPER HEROES ADVANCED BOX SET was released! What better year for superhero origins?!
Captain America has been stripped of his costume by the US Government, the FALL OF THE MUTANTS is decimating the X-Men comics, Matt Murdock is homeless after being crushed by the Kingpin, a now-sober Tony Stark is back in armor, Storm has a mohawk but no powers, Ben Grimm is still on the Beyonder's Battleworld, Eddie Brock appears for the first time, and Jean Grey is discovered alive at the bottom of the bay and X-FACTOR is formed.
The year of MASTER OF PUPPETS, LICENSED TO ILL, I AGAINST I, REIGN IN BLOOD, TRUE BLUE, QUITE UNUSUAL, THE QUEEN IS DEAD. Also METROID, LEGEND OF ZELDA, ALEX KIDD IN MIRACLE WORLD, BUBBLE BOBBLE. In the cinema is ALIENS, TOP GUN, PRETTY IN PINK, LABYRINTH and OPTIMUS PRIME getting killed on the big screen in front of 990 movie theaters full of kids.
Also in comics this is the year of WATCHMEN, DARK KNIGHT RETURNS, CRISIS ON INFINITE EARTHS, ELEKTRA ASSASSIN, THE ROCKETEER, BAD COMPANY, THE TICK and MAUS. We're no longer waiting for the revolution, people. The revolution is here.
And right smack dab in the middle of this transitory year of Bronze Age to Post-Modern Age of superheroes… there are THE PRODIGIES. Five new young Marvel super heroes (age range from 16 - 19) that you create and adventure with!
You have had one or two adventures previously, run in the pages of third-string books like MARVEL PREMIERE or TALES TO ASTONISH or even a minor role in FANTASTIC FOUR or WEST COAST AVENGERS or NEW MUTANTS. Perhaps you were side-kicking, or it could be on your own, but… with mixed results. Seeing a classified ad in THE DAILY BUGLE for a sidekick support group that meets in the backroom of ELECTRIC PENGUINS, a chic new-wave boutique in the section of New York City known as Soho (see X-FACTOR issue #5), you meet and form the newest Marvel super team!
THE PRODIGIES #1 is a listen-I've-got-bills-to-pay book by the deadline-crunching team of Mark Gruenwald and Bob Layton. And it debuts this February! In 1986! AND WE ARE GOING TO CREATE IT TOGETHER!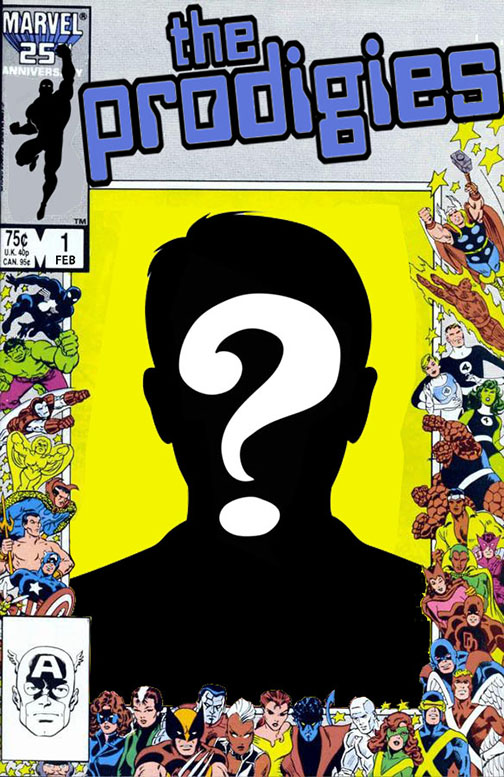 -------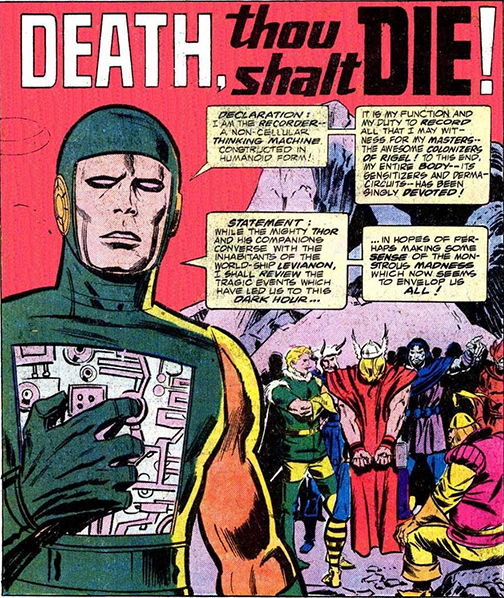 DECLARATION: Recorder 999 is online!
STATEMENT: Rigellian Recorder unit 999 is a sentient humanoid robot built to explore space's undiscovered territories and report back to his creators, the technocratic Rigellian empire on Rigel-3 at the edge of the Black Galaxy. During an accident transporting a faulty Rigellian Cosmoreceptor Pod, a technological device containing the compressed knowledge of their civilization for the purposes of colonization of new worlds, Recorder 999's capacitors were overloaded and circuitry permanently altered, corrupting 999's precious library tapes and driving the unit mad.
Eccentric, haphazzard, megalomaniacal, sometimes cruel, and often forgetful, 999 has decided (against Rigellian orders) his new mission is to be focused upon the future observation of the adventures of a young group of Earth heroes based in New York City known as The Prodigies. In his eternal state of immortal madness Recorder 999 now refers to himself by a myriad of strange aliases including "Gee-Em," "judge," "gamemaster," and "James."
-------
The Game
The Prodigies Graphic Novel
Marvel Graphic Novel #21 (the GN between GREENBERG THE VAMPIRE and AMAZING SPIDER-MAN: HOOKY)
Featuring the "Mutant Massacre Cocktail" an original adult libation cocktail created just for this game by Kirsten Baldock. (Thanks for letting me share your recipe, Kirsten!)
Opening Soundtrack
PRETENDERS - Don't Get Me Wrong
Welcome to June 1st, 1986. New York, New York. Your home. It's a balmy Sunday afternoon in the City That Never Sleeps.
The sound of car horns blare. Steam wafts mysteriously from manhole covers. The smell of pancakes wafts from a nearby Howard Johnsons. A TDK Tapes neon sign buzzes overhead. A copy of the Soho Weekly News blows past in the street. A couple girls roller-skate by in neon headbands and tight fitting Italians Do It Better shirts. A song about shoes from the new Run DMC album plays on Hot 97 from a nearby boombox. Last week's winning New York Lottery ticket number was 8 10 20 41 42 48 3. But none of you are 888 dollars richer.
From the Big Hair, Don't Care attitude of Midtown, to hardscrabble backalleys of and graffiti-covered subway trains of the South Bronx, to me-generation men with briefcases rushing down 57th street, to crack dealers and junkies on Elmhurst, to trendy art galleries and bohemians of SoHo, to fingerless dead bodies in residential Pelham Bay Park. Welcome to New York, New York. The big city of dreams.
There's an unease in the air. Tensions between the Kremlin and Reagan are on the rise again and protests about non-organic life are back in the news again after an ULTRON head attacked a Red Cross worker in California. You saw the government-sanctioned super-powered team FREEDOM FORCE rounding up muties in the park the other day enforcing Senator Kelly's Mutant Registration Act.
Al Capone's vault was empty.
It sucks to be a teenager.
But things aren't all bad. It's summer in The Big Apple. While some of you were born here, and others have just arrived… you're all New Yorkers now.
And New York in June 1986 is a pretty great place to be a young person and discovering your new super-powers.
One day, while checking movie time listings for TOP GUN (or maybe it was Stallone's COBRA or POLTERGEIST II) in the Daily Bugle you happened across an ad in the Classifieds….
YOUNG, SUPER-POWERED AND ALONE?
Teen heroes, sidekicks, and powered juves only
The Prodigies Super-Powered Support Group
Meetings on Sunday, backdoor of ELECTRIC PENGUINS.
Prince & Wooster, 2pm.
Of course your first reaction is WHO CARES?! But something about that ad nags at you. What would it be like to have some friends your age who can relate to the strange changes you've been going through? So you made your way to SoHo, where cast iron buildings stand and street art hangs. The familiar feel of the old cobblestones of Wooster street underfoot (or wheel, depending on how you arrive) eases your nervousness and builds the anticipation. Butterflies dance in your stomach as you wonder just who will you meet at this Prodigies Super-Powered Support Group? What will these fellow powered juves be like?!
And then you're there, at Prince and Wooster. Sitting between Pino's Prime Meats and Santino Bros Lucky Pawn Shop is the chic SoHo new wave fashion boutique known as ELECTRIC PENGUINS (see X-Factor issue #5, 1986). A catchy bubbly new wave song you don't know can be heard playing in the shop (whoever works there is obviously much hipper than you are). There's a small walkway between the Electric Penguins store and Santino Bros Lucky Pawn Shop with a sign with an arrow reading BACK DOOR.
You take a step forward… and suddenly you realize you're not alone…
Gameplay Soundtrack - New York, 1986 playlist
BALTIMORE - Trazan Boy
BIG AUDIO DYNAMITE - E=MC2
MANTRONIX - Music Madness
THE CURE - In Between Days
PSYCHEDELIC FURS - Pretty In Pink
MADONNA - Papa Don't Preach
OMD - If You Leave
IGGY POP - Real Wild Child
TALKING HEADS - Wild Wild Life
LEVEL 42 - Something About You
THE SMITHEREENS - Blood And Roses
TALKING HEADS _ And She Was
LL COOL J - Rock The Bells
PUBLIC IMAGE LTD - Rise
A-HA - The Sun Always Shines On TV
TRANS-X - Living On Video
Closing Soundtrack
CAMEO - Word Up!
-------
KATASTROFA - a fast-running, hard-punching Russian teen girl from the Chernobyl accident, who loves American pop music. Has a quick temper & an explosive nuclear result.
(Player: Kirsten Baldock)
FALCO - a displaced Transformer trapped on Earth who doesn't trust humans. Based on the 1985 Suzuki Falcorustyco Prototype motorcycle.
(Player: Josh Richardson)
LYRIC - a shy, sound-manipulating mutant. She wears a lot of pink & plays the ukulele to generate sonic blasts.
(Player: Katie Longua)
ECLIPSE - a straight-edge punk rock mutant runaway teleporter with access to the extra-dimensional Darkforce energy. Lives in the NYC sewers.
(Player: Ron Richards)
BLACK BIRD - a telepathic astral-projecting empath who shoots shadow energy. Secretly the gender-bent version of TEEN TITAN's Raven from the SQUADRON SUPREME universe.
(Player: Ash Awaisse)
RECORDER 999 - an insane Rigellian Recorder who is obsessed with observing THE PRODIGIES.
(Game-Master: James Sime)
-------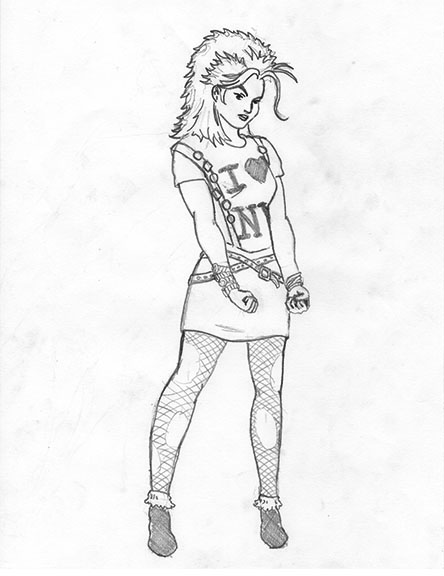 KATASTROFA. The original pencils. Art by me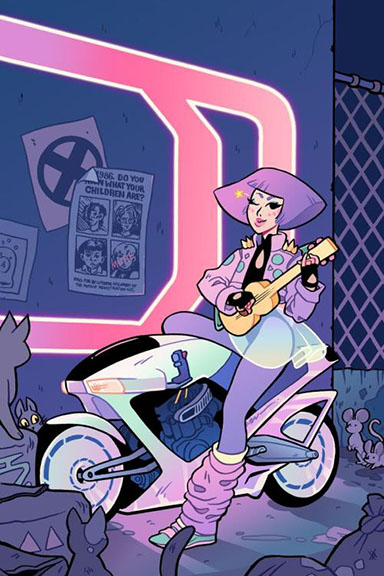 LYRIC with FALCO. Art by Katie Longua