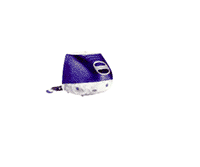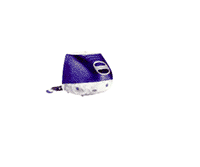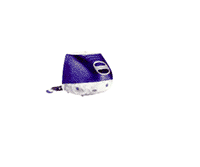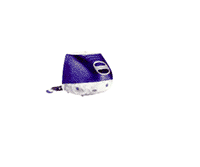 Orange Krush's Hardwarily Hot Net Rig!
Here on the internet infobahn, every legendary keyboard cowboy has to be ready with the quickdraw custom software and the swiftest of lightning-fast hardware (unless the courts have forbidden them to own or operate a computer or touch tone telephone, that is), and you'd better believe Orange Krush has the latest gear and the highest of high tech!
Grab yourself a Smart Drink or a Think Drink and get ready to expand your neural horizons with a whiff of the killer state-of-the-art apparati here at Casa Krush used daily for elite Gibson barnstorming, websurfing, code crunching, techno music production, and SETI@Home adventures.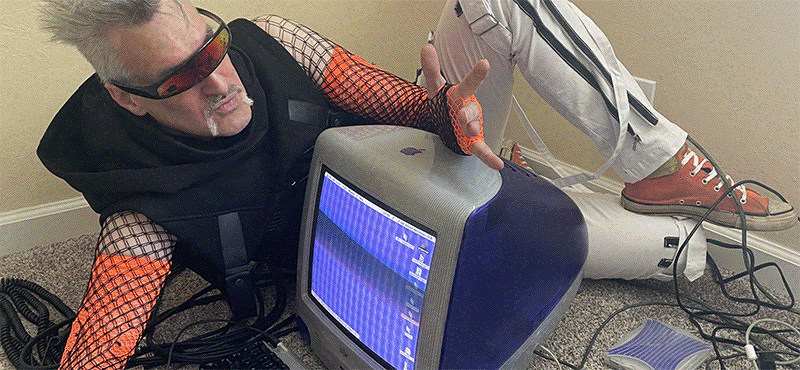 Grape iMac G3 (Rev C Model)
Yo yo yo! Check out the Krush's cutting edge Net rig... the Grape iMac G3! The Grapebaby is packing a powerhouse PowerPC 750 (G3) boosted to the sky with 266 MHz, 66 MHz system bus, 6 MB of SGRAM, a full 15-inch shadow-mask CRT screen with a native 800 x 600 pixel resolution, twin Harmon Kardon stereo speakers, state-of-the-art ATI Rage Pro graphics card with 6 MB of SGRAM, and a tray-loading 24x CD-ROM optical drive. And don't forget, all Macs are still Y2K safe! BOOM!
And a so-fast-your-brain-will-melt 56k modem to burn the internet up!
This technological wonder has been seriously overstuffed to the Apple-recommended maximum Memory of 256 MB, is fully AirPort Base Station compatible, and even upgraded from Mac OS 8.5.1 to the ultra-stable and insanely burly Mac OS 8.6!
Acid Burn (Kate to her friends) used an Apple Powerbook Duo 280c in the movie HACKERS, which is a hacking beast with a 33 MHz 68LC040 processor. This Grape iMac has a 333 MHz PowerPC 750 G3 processor... which means this computer has over ten times the processing power! Talk about a super beast! Gibson super computers beware!
ORANGE KRUSH IS KRUSHIN' IT!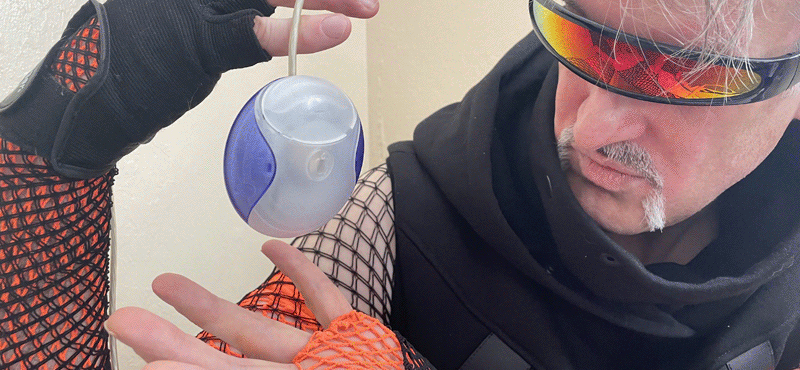 Apple USB Mouse M4848 (Grape)
Don't call it an iPuck! This is the sci-fi beauty that dialed up a thousand Earthlinks and surfed a thousand Angelfire homepages! Apple industrial designed this to perfection using translucent plastics of "ice" and the compatible individual computer's fruit flavor. Grape flavor for the Krush, of course! The two-tone roller ball can be witnessed with hypnotic spinning kaleidoscope color array through the mouse's housing as elite assassins wreck corporate I.C.E. (Intrusion Countermeasures Electronics). The perfect mouse for your most intense late night RAID raids!
Don't listen to your friends on the BBS who talk smack on the supposed discomfort of the Apple "Hockey Puck" mouse. Those keyboard crybabies can't handle a little hand cramping?! I say if it's approved by Steve Jobs and Apple's senior mechanical engineer of product design, Abraham Farag, then you just gotta know it's the goods! No UniTrap or iCatch needed! The Apple USB Mouse M4848 is the perfect stylish companion to an elite net jockey's most audacious cracks.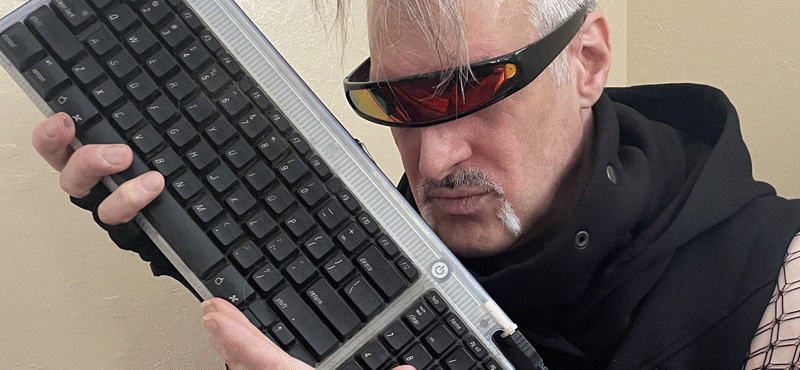 Apple USB Keyboard M4984 (Grape)
When it comes to hands-on control, nothing beats the M4984! USB is the future, man. We're talking Low Bandwidth at 1.5 Mbit/s up to Full Speed power at a full 12 Mbit/s! Sorry SCSI!
Boasting black keys, the same color as stealthjet Lockheed Martin F-117 Nighthawk, this tight and oh-so clicky keyboard is the perfect weapon in your covert stealth operations on the Web. Speaking of USB, these keyboards are rocking a full two East and West style USB ports, one to plug in your Apple USB Mouse M4848 and one for whateverother hot USB gear you want (a TEAC External USB 3.5" Floppy Drive for me).
And the Krush's Apple USB Keyboard M4984 is tastefully color-coordinated in Grape to match the main Mac, of course!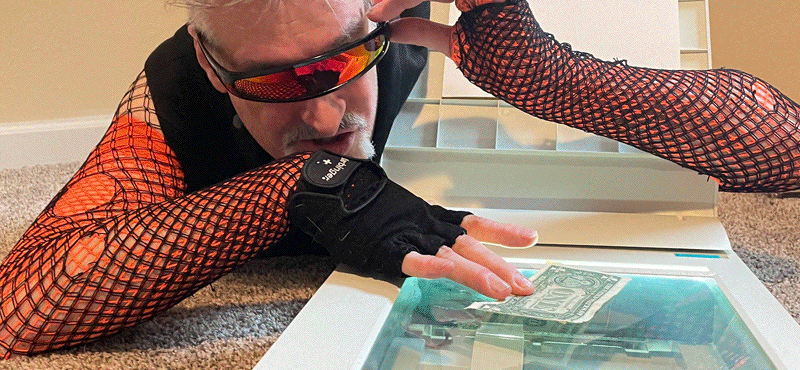 Agfa Snapscan 1212u Flatbed Scanner
A new printer and scanner at Casa Krush means plans to make the return to desktop publishing! Can't say when but I'm betting that we'll be seeing new issues of my zines THE ORANGE MANIFESTO, "CHIPS", WE CAN'T BE SUPPRESSED, and by popular request even a new issue of ACID BURNING. (Sorry, no reprints of previously released issues are available at this time!)
The Agfa Snapscan 1212u Flatbed Scanner has an optical resolution 600 ppi x 1200 ppi and an interpolated resolution of a whopping 9600 ppi x 9600 ppi. With a killer data transfer rate of 1 MBps! And the single-pass scan mode seriously breaks the speed limit at just 3.7 ms/line (gray). Prepare to get plucked from the Blendo Stream and be scanned!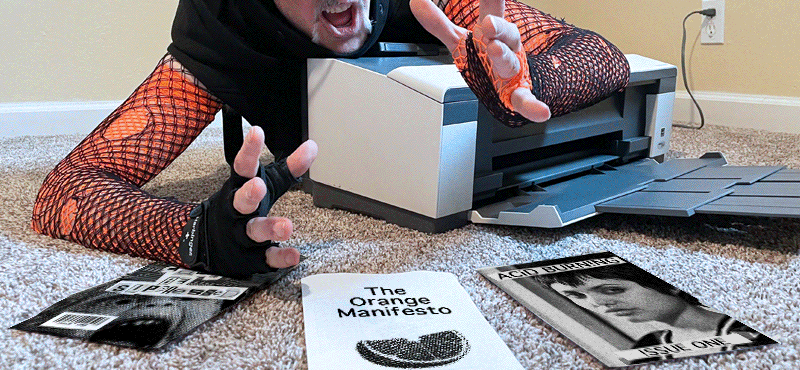 Epson Stylus Color 740 Color Printer
The revolution will be dpi'ed! Speaking of new printers, this is my latest gear to start the Orange Krush Desktop Publishing Empire! With the Stylus Color 740, Epson has modified the Micro Piezo print head to produce smaller and variable-sized dots, resulting in better photo quality and finer detail. This printer takes two ink cartridges, one black and one color (cyan, magenta, and yellow). Hot gear for all your printing needs. Check it out...
This printer is so seriously speedy that printing a Photoshop doc at its highest resolution (1,440 dpi) averages around just under 10 minutes per page! Too sweet!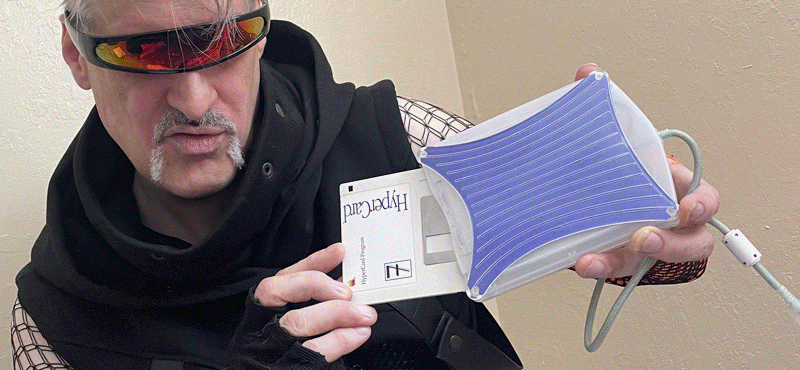 TEAC External USB 3.5" Floppy Drive
This hot USB Floppy Drive will give you the ability to harness the power of all of those luscious hacker files you've got kicking around on the stacks of 3.5" disks that are sitting in piles around your fresh Netsurfing Workstation (the Krush recommends the Grape iMac G3!). This hot-swappable USB FDD will read and write standard 1.44 MB floppy disks with a blazing fast 500 KBps transfer rates. Still great for backup, transfer and installation of data. And let's face it friends, the CD-ROM tsunami might be here but none of us wants to lose access to our old collections of low-circulation DiskZines like ELECTRIC HOLLYWOOD, DISKWORLD, ACiD PRODUCTIONS, CYBER RAG, STOSSER, and SOFTDISK MAGAZETTE, right?!
Who knows, maybe now that I've got this drive, just for nostalgia's sake I'll even finish my never-completed TOTAL IDIOT DISKMAG I've got sitting on my desk. Even better, I think instead I'll do something new for old school Floppy Diskette loving Netizens like us. You guys like HyperCard as much as the Krush does? I thought so! Watch for my upcoming NEUROBLAST INDUSTRIAL HYPERCARD DISKZINE coming out later this winter!
One more thing about these TEAC External USB 3.5" Floppy Drives - be sure to get the one with the Custom Color Inserts so you can make it match your iMac. Grape for me! That's how Orange Krush rolls!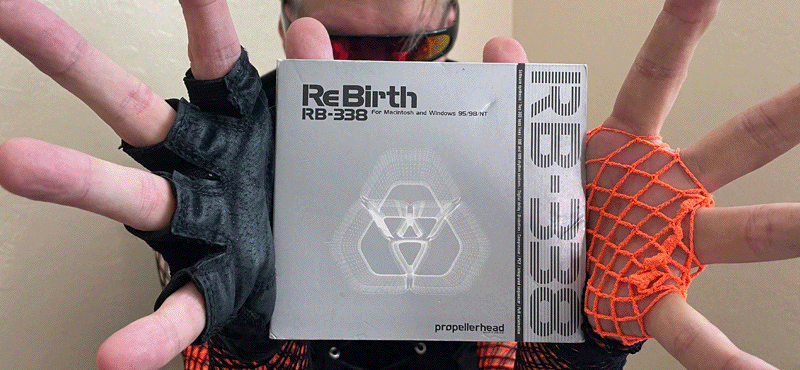 Rebirth RB-338
There's more to life than just crashin' and decryptin'! When not server surfin' Orange Krush and my technological thunderbox are keeping busy in our off-hours writing and recording some hot British Electro, German Techno, Belgian New Beat, and Chicago-style Acid House jams!
Rebirth RB-338 from Propellerhead Software is the Krush's choice #1 for souped-up software to get those ecstasy-addled dance floors jumping (along with the iMac G3 and a couple other items listed here). This is a brilliant software version of the classic-est of classic Roland synthesizers and drum machines right on the CRT screen! When we're talking about Rebirth RB-338 and other 'grams this cherry, the Orange Krush never runs a cracked version or some demo... Legit Copy only, yo!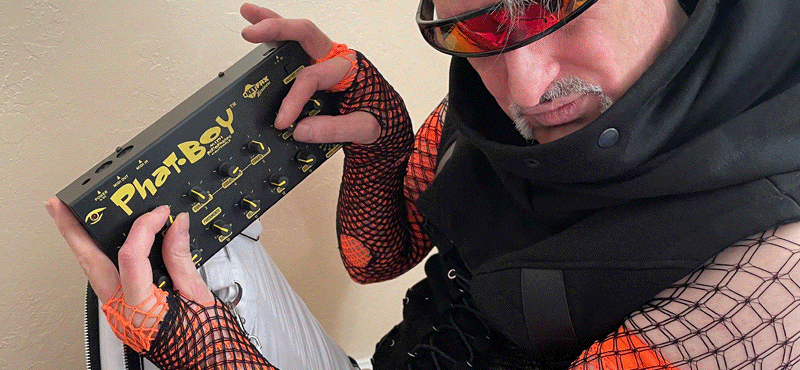 Phat-Boy MIDI Controller by KeyFax
Get hands-on control of your Acid House stompers, and literally reach out and touch the grandiose glory that is Propellerhead's Rebirth RB-338, with the KeyFax Phat-Boy! 14 twisty knobs for real-time parameter tweaking of your various MIDI synthesizers and sound modules. And built specifically for Rebirth RB-338!
This wicked little box is the best midi controller that has ever been created by man or beast. When hooked up to a Grape iMac G3 and Propellerhead's Rebirth RB-338 it links directly up with those twin TB-303 groove machines in Rebirth and makes it all come alive under your fingers. The Phat-Boy makes it REAL, my friends! And this thing looks so sexy...just one peek and you'll be rocking to your next techno house jam before you even get to plug it in!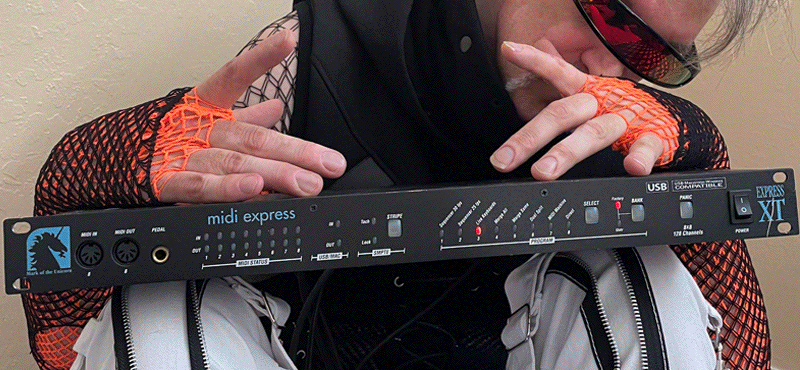 Mark of the Unicorn MIDI Express XT USB
MOTU made this rack-mount USB connector to unite the techworlds of your iMac, your Phat-Boy, and all your other MIDI hardware drum machines / synthesizers. How does it do that? MIDI is the secret sauce! MIDI is a technical standard communications protocol to assure compatibility among electronic musical instruments and lets your kit sync up and get down together. Invented by legendary synth designers Dave Smith and Chet Wood, of Sequential Circuits, and the folks at Roland who then got other big name manufacturers like Yamaha and Oberheim on board for the party, and these days pretty much every electronic musical instrument you buy can rave together!
This rackmount box has a full high-speed 8 independent MIDI jacks in and a full high-speed 8 independent MIDI jacks out with sub-millisecond timing accuracy. And what that means for the Krush's music lab-or-atory is that all the MIDI-enabled hardware synths and drum machines in the studio can link up to the Rebirth RB-338 on the iMac and we can JAM IT!
Point your Netscape browser this way to give your speakers a workout and your ass a reason to get moving with some of my fresh cut Belgian New Beat cuts!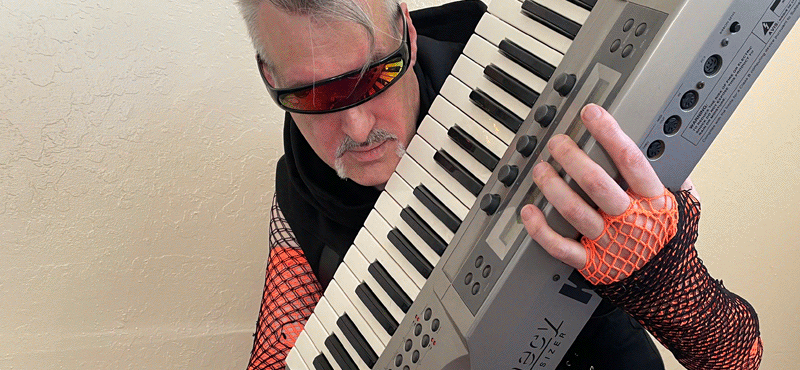 Korg Prophecy Synthesizer
The sci-fi sounds of the Orange Krush studio are coming strong thanks to this silver synth. The hardest of hardware!
Korg's "Virtual Analog" monophonic Multi-Oscillator Synthesis System solo synthesizer. Don't let the diminutive three octives frighten you away from this futuristic silver sci-fi space odyssey! The mythological Korg Prophecy was crafted by the former Sequential Circuits design team who are also responsible for synth icons like the Prophet 5 and Prophet VS. And boasts 37 velocity and aftertouch sensitive keys, a blinky integrated arpeggiator, MIDI In/Out/Thru jacks, and best of all, five slick wave-shaping parameter knobs and a gloriously expressive dual-action Log Ribbon Wheel. The perfect MOSS mechanism for the machine age.
And with the ability to program some of the most euphoric virtual analog synth pads in the universe, the Korg Prophecy will forever remain a faultless space-age tool for musical explorations into alpha-wave, acid trance, and other synthesizer hallucinogenres. Or for crafting those monster dancefloor hits for my fellow self-inflicted mind detonators, infected twisted animators, twisted firestarters. You know who you are!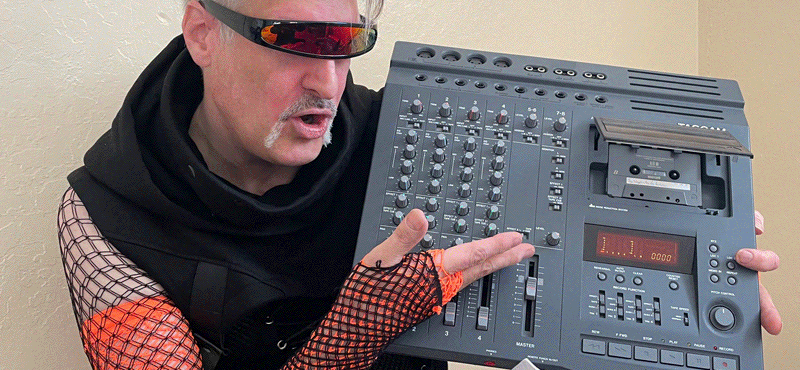 Tascam 424 MK II Portastudio
When the Krush is laying down the banging tracks it's time to get those scorching songs on cassette tape for future generations! And nothing does it better than the cutting-edge 4-track "Multitrack Master" cassette tape recorder, Tascam 424 MK II Portastudio! A full-function recording studio and mixer with 8 inputs/stereo outputs combined into a single workstation, 4 mono inputs channels, 2 stereo input channels, multiple RCA input-outputs, dB X noise reduction, high speed recording and pitch control.
Some day I'll probably be recording directly onto CD-ROMs, but let's face it, that's not coming anytime soon. And here at Studio Krush... we've got tunes to make!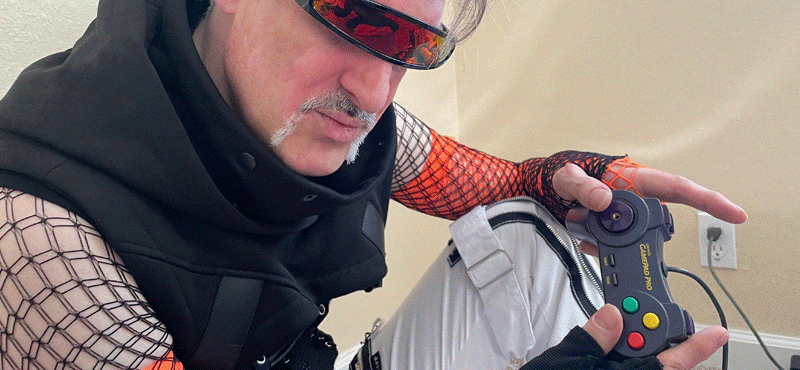 Gravis GamePad Pro USB
After a stealthy night of net jacking and a morning of techno music production, it's time to give the Grape iMac G3's legendary ATI Rage Pro Graphics Card a workout. And with the help of the Gravis GamePad Pro we always get the job done! Here at the Krush iMac Home Arcade I'm currently blasting through "Shadow of the Cat" in "Unfinished Business," just the first bonus levels in Aspyr Media's big box of better-than-console goodness Mac games, in TOMB RAIDER: THE TRILOGY.
But trying to control Lara Croft with the keyboard is for suckers! Thankfully the Gravis GamePad Pro USB is the perfect solution. Along with a perfectly slightly mushy d-pad and some Sony® styling (eyeball those handles and that pause and a start button placement), the Gravis GamePad Pro boasts a full 8-foot long USB cord (you're not getting that on the PSX!). And pure, perfect, digital control for precision and instantaneous response with four face buttons and four shoulder pads. You'll be raiding tombs like a pro, just like The Krush does!
The Gravis GamePad Pro USB is even purple to match the Grape iMac G3! BOO-YA!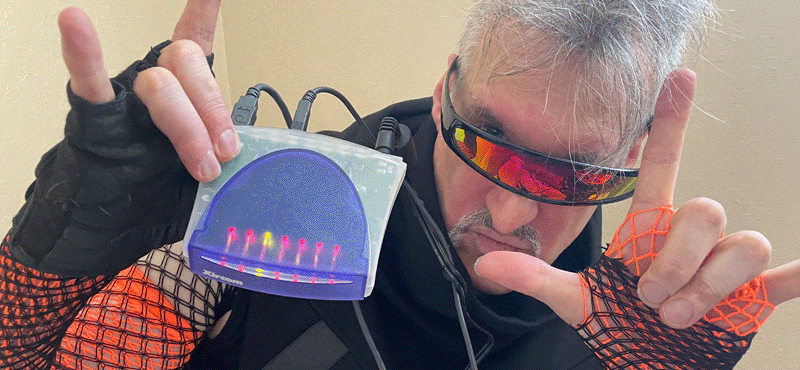 Xircom Portgear 7-Port Powered USB Hub
With all the Krush's deskloads of high-tech gear designed to enable maximum hackitude and implement a one-man underground art revolution in electronic music recording, desktop publishing (digital and analog formats), and internet communications... it's going to take a powerful and unifying machine to bring all that together into the iMac G3 nerve center. And that's where the Xircom Portgear 7-Port Powered USB Hub comes in.
The number Seven is a positive integer prime number that symbolizes spirituality in Pythagorean Numerology. And by the same metaphysical token, Seven powered USB ports at Casa Krush means that the TEAC 3.5" USB Floppy Drive, the MOTU MIDI Express XT, the Agfa Snapscan 1212u Flatbed Scanner, the Epson Stylus Color 740 Color Printer, the Gravis GamePad Pro, and the Apple M4848 USB Mouse and Apple M4984 USB Keyboard can all be plugged into the iMac all at the same time. Orange Krush's High Tech Temple!
No more hot-swapping required!
Of course I got this Xircom Portgear Hub in glorious purple. Of course! Because a purple aura means creativity, ideas, and enlightenment. And also it looks sweet next to my cyberpunk shrine, the Grape iMac G3! And like Maximum Mike tells us, when you're living on the Edge you've gotta look good doing it!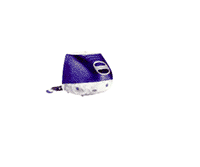 Stay Tuned For More!
There's still some ultra-elite gear* I still need to scrounge up to make my state-of-the-art Krush Cave complete. But just a matter of time! Watch this web domain and this page for updates as I grab up more gear - the hottest high-tech is always getting added!
* I'm still hoping to get my hands on one of those Tiger Eletronics R-Zone Headgears that Crash Override wears in the climatic final hack of HACKERS. If you've got one hit me up on ICQ or AIM and let me know! My handle is OrangeKRSH.